U.S. Activists Put Billboard 'No War on Iran'
Thursday, July 19, 2012, 2:51 pm
Press TV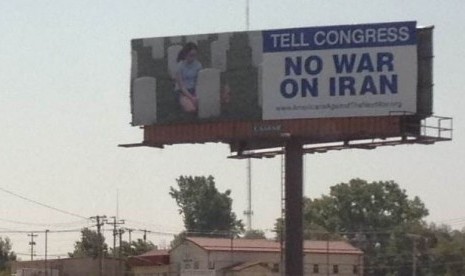 REPUBLIKA.CO.ID, move the United States (U.S.) who want war with Iran over its nuclear program, did not get approval from the citizens. At least, disagreement is seen from three billboards that read "No War on Iran."
Is a group of activists from the land of Uncle Sam billboard put up three anti-war. The three billboards can be seen in the city of Oklahoma.
They call themselves as "Americans Against the Next War (AANW) '. In addition to installing anti-war billboard, they also announced the location of the press conference on July 10 at the Capitol, Oklahoma City. They also introduced a coalition of churches, organizations and other individuals who support the anti-war project.
Director of the Peace Council for Oklahoma City, Nathaniel Batchelder said the billboard shows that voice for peace and negotiation is important for the process of resolving issues with Iran.
'War with Iran will raise oil prices, complicating the recovery of our fragile economy, and plunged the U.S. into further debt, "said Batchelder said.
"I oppose the war. I saw men and women dying, children lose arms, legs, and eyes, and I oppose another war," said human rights activist (HAM) Oklahoma City, Bob Lemon.
Meanwhile, the Rev. Bruce Prescott, Executive Director of Mainstream Oklahoma Baptists criticized the authorities turning a blind eye on Israel's nuclear weapons and just focus on Iran, which does not have nuclear weapons.
"Frankly, I am against nuclear weapons in the warehouse every nation. During the world turn a blind eye to Pakistan's nuclear weapons, and Israel, then it is hypocritical and then worrying about the possibility that Iran might acquire nuclear weapons. We have to work for nuclear disarmament of all nations, "said Prescott.
AANW also said the voices calling for the war is wrong, urging Congress and the American public to carefully look back motivations and arguments behind the calls for military action.
http://www.republika.co.id/berita/internasional/global/12/07/18/m7d2l3-aktivis-as-pasang-papan-reklame-no-war-on-iran