Best 5 ultrabooks for gaming
Posted by:
Mike
| Last updated on: November 8, 2012 |
See the comments or add yours!
Share or Like this post:
Playing games on ultrabooks might seem a bit unrealistic, but that's not really true. Despite their thin and light bodies, most ultrabooks pack powerful enough hardware to deal with at least some light gaming.
However, if you're planning on running some serious titles on your ultra-portable laptop, there are only a handful of gaming ultrabooks available right now, especially if you want something compact and not a 15 inch machine.
In this post I'm going to tell you a couple of things about these laptops, about their strong points and their quirks.
Before though, you should know that if you'll buy any of the newer ultrabooks built on an Intel Ivy Bridge hardware platform (or later), those will be able to deal with quite a bunch of games. The Intel 4000 HD integrated chip is not a beast, but as long as you don't expect to run this year's releases or slightly older games on High details, it will do the job. You can see that from the clip below, where I'm running Dirt 3 and Call of Duty: Modern Warfare 3 on a Core i7 powered Asus Zenbook Prime:
With that out of the way, if you want to step up the game a notch, you'll find below a bunch of good gaming ultrabooks.
Asus Zenbook UX32VD – the only 13 inch ultrabook for gaming
With a 0.7 inch thick body weighing only 3.2 pounds, the Asus Zenbook UX32VD is by far the most compact of all the laptops we'll be featuring here.
On the other hand, the sleek body leaves little room for powerful hardware, thus this ultrabook only packs an Nvidia 620M graphics chip, on top of an Intel Core i7 ULV processor. Even so, the Nvidia chip is two-three times faster in games than that integrated Intel 4000 HD chip and will allow you to run most of the recent titles at 30+ fps, on 13 x 7 resolution and Medium to High details. Some titles like Crysis 2, Battlefield 3, Metro 2033 or other resources-needy games won't run as smoothly though.
All in all, the UX32VD is the most powerful 13 inch ultrabook you could buy right now. It goes for about $1300, without an SSD, and its performances are somewhat limited, but if you want to play games on a 3 pounds machines… this is pretty much your only pick today.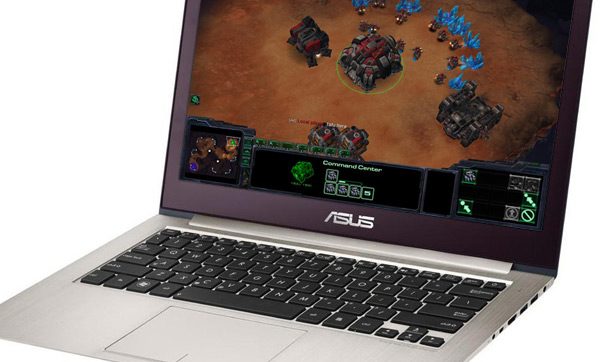 While not very powerful, the Asus UX32VD is the most compact gaming ultrabook
Acer TimelineU M5 – a budget ultrabook for gaming
The Acer M5 and all of the other ultrabooks featured bellow pack 14 inch screens and as a result, slightly bulkier bodies than the Asus above.
The Acer M5 is cheap and fast
This one, while 0.8 inch thick, weighs 4.2 pounds, despite going for a mostly plastic covered body which feels… well, cheap. In fact, that's the impression you're mostly getting with this laptop: it's not as stylish as most of the other ultrabooks out there.
What it lacks in looks it sometimes compensates when it comes to performances, packing an Intel processor and Nvidia's 640M LE graphics. This chip sits somewhere between the 630M and the 640M and will allow you to play all sorts of games, even the more demanding ones, like Battlefield 3 for instance. Just not on Ultra-High details.
And that's quite cool for a laptop that will only set you back less than $800. However, there's one important issue: the laptop gets very hot when running games, so if you want one, you should also considering an external cooling pad as well.
Toshiba Satellite U940 – another fair priced option
The Toshiba U940 is another nice laptop
The Toshiba U940 is basically a competitor for the Acer above. Toshiba's cheapest 14 inch ultrabook is expected to start at about $700 and pack Nvidia's GT 630M graphics. That makes it slightly slower than the TimelineU M5, but also cheaper.
More details about the Toshiba U940 will be available soon, as this product is not yet available in stores at the time I'm putting this post together.
Dell XPS 14 – the fancy option
While the two 14 inchers listed above could be called budget-ultrabooks, the Dell XPS 14 is a stylish machine, emphasizing on looks and build quality. Besides those, it also adds a better keyboard, trackpad and screen to the mix.
The internals are basically the same though, as inside you'll find an ULV Ivy Bridge Intel processor and Nvidia's GT 630M graphics.
The premium feels does come with a high price-tag though, as the XPS 14 sells for $1300. Is it worth that kind of money? Well, you could be the judge of that or you could
read my full review of the Dell XPS 14 for some extra details.
Gigabyte U2442V – the faster 14 inch gaming ultrabook
The Gigabyte U2442V is a beautiful laptop, with a metallic body that weighs less than 4 pounds. It also packs a decent chiclet keyboard and a nice 14 inch screen, with a matt coating and 1600 x 900 px resolution.
However, what's inside should be more important to potential gaming ultrabooks buyers: a Core i7 ULV processor and Nvidia's GT 640M graphics, making the Gigabyte U2442V the first ultrabook to pack a Fermi chip in this class. What does that mean: the laptop is going to be fast and will run cooler than the others mentioned above, while lasting a bit longer on a charge, as the Fermi architecture is known for its efficiency.
All these won't come cheap, as you probably expected, with the U2442V expected to sell for $1300 or even a bit more. However, considering the goodies you'll be getting with this machine… it might be well worth the money.
Gigabyte U2442 – sleek, beautiful and fast – one of the best gaming ultrabooks you could buy
How about 15 inch gaming ultrabooks?
While there aren't many 15 inch ultrabooks available yet, all of the ones available feature dedicated graphics. However, while the 14 inch machines already pack Nvidia's GT 630M and 640M chips, on some 15 inch machines you'll find the faster Nvidia 650M graphics as well. Plus, while the smaller ultrabooks are built on Intel's ULV hardware platforms, some 15 inchers pack full-power processors.
The Asus U500 is the 15 inch ultrabook for gaming you should check
And I'm mostly looking at two laptops here: the
Asus Zenbook U500
and Apple's Retina MacBook Pro, even though that's not exactly an ultrabook.
Other worthy 15 inch ultra-portables are the Sony Vaio S15 or Dell's XPS 15, although the later is definitely heavy for its compact body, with its hefty 5.9 pounds weight, while most of the other ultrabooks in this class weigh about 4.5 – 5 pounds. All these pack Nvidia's GT 640M chip, which to be frank is pretty much the same as the GT 650M, just a bit underclocked.
A quick wrap-up
Puting all together, perhaps the only true gaming ultrabooks available right now are the Asus Zenbook UX32VD, with its compact body and light weight, and the Gigabyte U2442V, slightly larger, but also considerably more powerful. The others, while thinner than most of the other laptops in their classes, are still massive in comparison to these two.
On the other hand, the graphics on these machines (especially on the Asus) aren't more than average and will only allow you to play most games at 13 x 7 with Medium-High details. For some of the recent titles though, you'll have to trim them down. And I don't think how happy you are with that, considering that you'll have to pay $1300+ for these laptops.
So, if you want a gaming ultra-portable, these are your best picks right now. It's up to you now to jugle between them and pick the one that better suits your needs.
Whit that in mind, it's time to put this post to a halt, but make sure you'll check this article from time to time, as I'll update it with more details when new good gaming ultrabooks will pop in stores.
http://www.ultrabookreview.com/2071-best-gaming-ultrabooks/?utm_source=feedburner&utm_medium=feed&utm_campaign=Feed%3A+ultrabookrev+%28Ultrabook+reviews%2C+scoops+and+comparisons%29