The Thai government on Friday night (11/1) announced the release of nearly 700 Rohingya refugees from sekapan those involved in the profession of human trafficking (human trafficking).
American news agency "ABC News" quoted from Thai police, the authorities raided a warehouse in the district of Sadao, Songkhla province, southern Thailand, yesterday morning, and found 307 Muslims Myanmar. While 397 were found in two different confinement. And the authorities arrested eight people who believed that they were involved in human trafficking (human trafficking).
On the other hand, the Muslim Rohingya were rescued said that they came to Thailand with the intention to move to another country, because to escape from the violence and repressive actions that they face at the mercy of the government and Buddhists, but in Thailand it they were held by people involved in human trafficking (human trafficking).
Officials in Thailand, as the Rohingya news agency, that they would deport the Rohingya refugees to Myanmar. While some organizations called on the Thai government not to deport them to Burma so that they do not return to target violations and discrimination at the hands of sectarian Buddhists (islammemo.cc, 01/12/2013).
http://hizbut-tahrir.or.id/2013/01/14/kaum-muslim-rohingya-dijadikan-komoditas-human-trafficking-di-thailand/
===============================================================
Kaum Muslim Rohingya Dijadikan Komoditas Human Trafficking di Thailand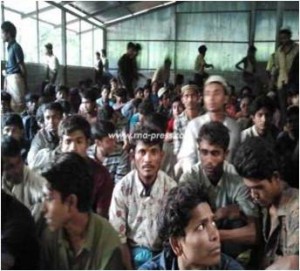 Pemerintah Thailand pada hari Jum'at malam (11/1) mengumumkan pembebasan hampir 700 orang Muslim Rohingya dari sekapan orang-orang yang terlibat dalam profesi perdagangan manusia (human trafficking).
Kantor berita Amerika "ABC News" mengutip dari polisi Thailand, bahwa pihak berwenang menggerebek sebuah gudang di Distrik Sadao, Provinsi Songkhla, Thailand Selatan, kemarin pagi, dan menemukan 307 orang Muslim Myanmar. Sementara 397 lainnya ditemukan di dua tempat penyekapan yang berbeda. Dan pihak berwenang menangkap delapan orang yang diyakini bahwa mereka terlibat dalam perdagangan manusia (human trafficking).
Di bagian lain, kaum Muslim Rohingya yang berhasil diselamatkan menyatakan bahwa mereka datang ke Thailand dengan niat untuk pindah ke negara lain, karena untuk melarikan diri dari kekerasan dan aksi-aksi represif yang mereka hadapi di dalam kekuasaan pemerintah dan umat Buddha, namun di Thailand justru mereka disekap oleh orang-orang yang terlibat dalam perdagangan manusia (human trafficking).
Para pejabat di Thailand, seperti yang dikatakan kantor berita Rohingya, bahwa mereka akan mendeportasi kaum Muslim Rohingya ke Myanmar. Sementara beberapa organisasi menyerukan kepada pemerintah Thailand untuk tidak mendeportasi mereka ke Myanmar agar mereka tidak kembali menjadi sasaran pelanggaran dan diskriminasi sektarian di tangan umat Buddha (islammemo.cc, 12/1/2013).