Hundreds of Rohingya Swim to Save Themself
REPUBLIKA.CO.ID, violence and oppression of the Rohingya Muslim citizens to make them more and more displaced in neighboring countries. Last week, at least 482 Muslim Rohingya have hanging on their boats for 15 days to try to swim to shore Malaysia.
Those from Myanmar are entering Malaysia illegally in order to save themselves. Their destination is the island of Langkawi is located in the west of Kedah, Malaysia. Malaysian police have record number of them carrying 482 people. Among them some have found still swim 30 meters from the location of the vessel, as reported asiaone.com, Tuesday (1/1).
Furthermore, the refugees were admitted to paying some money to the ship's agent in the State of Rakhine, Myanmar to transport them to Malaysia. Cost ranges offered 2.8 million rupiah per person.
Currently, refugees are desperate to swim is still undergoing treatment at the hospital Kedah. Langkawi police chief, Thurs Harrith Abdullah said the ship's captain was arrested on Sunday (31/12) yesterday.
In addition to the refugees who managed to reach the shores of Langkawi, one person reportedly died from reckless action. The victim who died because one jumped into the sea and exposed propeller ship. The victim who died was buried in one of the Muslim cemetery Langkawi, Sunday (31/12) yesterday.
After undergoing medical treatment, illegal immigrants plan will be submitted to the immigration office Malaysia to be given further treatment.
http://www.republika.co.id/berita/internasional/global/13/01/02/mfyuw4-astaghfirullah-ratusan-muslim-rohingya-berenang-untuk-selamatkan-diri
============
Astaghfirullah, Ratusan Muslim Rohingya Berenang untuk Selamatkan Diri
Rabu, 02 Januari 2013, 04:40 WIB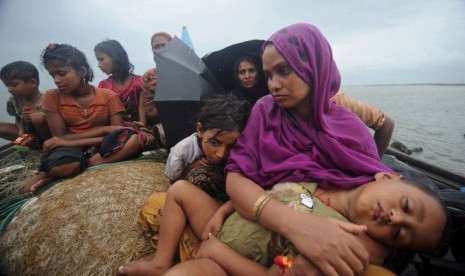 Muslim Rohingya
Berita Terkait
Singapura Tolak Kapal yang Mengangkut Muslim Rohingya
PBB Minta Akses untuk Pengungsi Muslim Rohingya
JK Bertemu Sekjend OKI Bahas Konflik Myanmar
Muslim Kaman, Korban Baru Konflik Myanmar
Lindungi Rohingya, PBB Keluarkan Resolusi
REPUBLIKA.CO.ID, Kekerasan dan penindasan terhadap warga muslim di Rohingya membuat mereka semakin banyak mengungsi di negara-negara tetangga. Pekan lalu, sedikitnya 482 muslim Rohingya yang telah terkatung-katung di kapal mereka selama 15 hari mencoba berenang ke pantai Malaysia.
Mereka yang berasal dari Myanmar tersebut memasuki Malaysia secara ilegal demi menyelamatkan diri. Tujuan mereka adalah Pulau Langkawi yang terletak di barat Kedah, Malaysia. Kepolisian Malaysia telah mendata jumlah mereka tercatat 482 orang. Diantara mereka bahkan ada yang ditemukan masih berenang 30 meter dari lokasi kapal, seperti diberitakan asiaone.com, Selasa (1/1).
Lebih lanjut, para pengungsi tersebut mengaku membayar sejumlah uang kepada agen kapal di Negara Bagian Rakhine, Myanmar untuk mengangkut mereka ke Malaysia. Biaya yang ditawarkan berkisar 2,8 juta Rupiah per orangnya.
Saat ini, para pengungsi yang nekat berenang tersebut masih menjalani perawatan di rumah sakit Kedah. Kepala Polisi Langkawi, Harrith Kam Abdullah mengatakan kapten kapal telah ditangkap Ahad (31/12) kemarin.
Di samping pengungsi yang berhasil mencapai pantai Langkawi, dikabarkan satu orang meninggal karena aksi nekat itu. Korban yang meninggal karena salah melompat ke laut dan terkena baling-baling kapal. Korban yang meninggal telah dimakamkan di salah satu pemakaman muslim Langkawi, Ahad (31/12) kemarin.
Setelah menjalani perawatan medis, rencananya para pendatang ilegal tersebut akan diserahkan ke kantor imigrasi Malaysia untuk diberikan penanganan lebih lanjut.
Redaktur: Endah Hapsari
Reporter: Hannan Putra